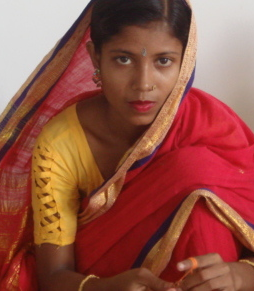 Taslima is a determined and bright young woman whose life started with struggling to survive difficulties. She was born into a very poor family and at the age of only 7 months she lost her mother from TB. Her father married another women and Taslima found herself to be the youngest of 3 step brothers and sisters. She was educated up to class IV.
Taslima dreamed of becoming a doctor but was not able to continue in education due to lack of money. When she reached 14 years old her parents arranged her marriage. She and her family are Muslim. Now she is 18 and she has a little girl who is 2 years old. She has decided that she should delay having a second child for 5-6 years since she understands that her health would suffer if she were to have another baby now. As such she has a contraceptive injection every 3 months to prevent pregnancy. The injection is administered by a government project which should give the injections for free however, in the past she has had to pay 100 tk for this injection. In the future the Community Liaison workers from this project will be helping the women to ensure that they do not have to pay for services which should be delivered free.
Taslima's husband is a rickshaw puller. Every day he hires a rickshaw for 55 tk and then works from 7am in the morning until evening and earns about 100 tk per day.
Every morning Taslima gets up at about 4am and starts to cook. At her cluster home there are 4 gas burners which are shared by 10 families who each have similar rooms to Taslima at the cluster. The gas burners burn gas from the mains supply and the cost for this is included in the rental for the rooms. Taslima's family pay 1300 tk per month for the rental of the two small rooms they have – approximately 10 m2 for 7 family members. Each morning 5 or 6 women along with Taslima get up early and cook for their families. Whilst they all have their own cooking pots they tend to combine their food and cook for the whole cluster home. These women are not related to each other in any way but every day live in very close proximity and live by sharing tasks and resources to a large degree. The rice and dahl or vegetable must be cooked before 7am when the husbands leave for work and they take the food in their tiffin tin since they will not return to the home until later in the evening.
The cluster home where Taslima has rented accommodation is in Solmaid. This is a tiny area within Notun Bazar and just 15 mins walk from the project building. At this home Taslima lives with her husband and daughter, Muffia and also with her mother-in-law and father-in-law, and her two sisters-in-law. Her mother-in-law works as a day labourer digging sand and soil, particularly harsh and heavy work for a woman but at 45 years old she is still strong. Her father-in-law is 48 years old and is a hawker, selling items by the roadside but without any official license or premises. Her two sisters-in-law do not work. One is only 12 years old and goes to a government school where she is in class III and the other is 14 years old and is looking for work; it is her responsibility to collect the water in the morning before the supply stops. There is a shortage of mains water supply in Dhaka and particularly in the bostis surrounding the city. In the area where Taslima lives the mains water supply is available only from 9am until 10am and it is very important that at that time every receptacle available is filled with water so that there will be sufficient water for the day.
The cluster home residents also share a latrine which is also provided as part of the rental of the rooms. Only a few yards from this cluster home there is another latrine – a public latrine, which has been supplied by private donations from the residents of the whole area and thereby keeps the area more clean. This is a simple example of the community spirit that exists in this bosti where, although the people have very little, there is a willingness to share and a desire to make their lives better.
The bosti where Taslima and her family live is located on the edge of a large pond. This pond is where they wash both themselves and their clothes. Whilst the pond is so important to them, it is something of a 'double edged sword' in that during the monsoon they are very vulnerable to flooding and currently the pond is precariously high.
After marriage she used to work in houses as a maid and before marriage she was working in a garments factory. She learnt about the training that we were organizing in this area after our visit to the community and attending the community meetings that we had held. She requested to start the training and became enrolled in the first batch. She has very nicely learnt hand crochet and has completed all the samples requested. Before she started training with us, she had never seen a crochet needle and now she is involved in production work. In fact she learnt so well and quickly that she was given production (paid) work even before the training course was complete and earnt 175 taka during the last week of the training course.
She is now very eager to continue to work and is currently coming to the project for 7 hours a day to work, whilst her daughter is well cared for in the crèche. This case study highlights the need for functioning crèche facilities within the ready-made garments industry. Taslima was a hard working employee of a garments factory until she was forced to leave through marriage and now cannot secure a garments job since she has a young child. Whilst all garments factories are by law compelled to provide childcare facilities, the law is sadly flouted and the factories provide a room for the purpose but do not employ those women who have babies or young children and sadly the rooms remain empty. Taslima falls into this category in that she is eager to have full time work but cannot get work because she has a young child to care for. She is therefore very happy now to have work in this project where her daughter is well cared for while she works. Indeed Muffia, Taslima's daughter, loves to spend time in the crèche where it is clean and light and there is lots of space for playing and lots of toys to keep her amused.
Taslima a determined young lady who is eager to become a skilled worker, to earn money to make her life better and to make the life of her family better and give her daughter the education that she was denied. She wants to spend more time in the project and to progress as quickly as possible, confident in the knowledge that whilst she is working in the project her daughter is well cared for and close enough for her to check on periodically as well. When asked about her aim in life she simply answers that she would like to see her daughter happy and educated.
We hope that in the longer term Taslima will be able to progress and become a trainer/supervisior within this project – certainly she has great potential.
A real story written by Hathay Bunano founder Samantha Morshead.